Conservation and Preservation
Conservation Lab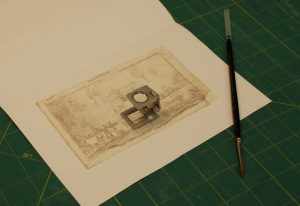 The Conservation Lab is committed to the care and treatment of rare books, manuscripts, prints, drawings, maps, photographic materials and other rare and valuable materials. Our primary objective of conservation treatment is to stabilize an item, prevent further damage and deterioration, and improve the condition for future use. Typical treatments performed include removing old or damaging repairs; constructing new cases or bindings; reattachment of loose or broken boards; pamphlet and textblock sewing; improving a book's openability by creating new cases; mending tears, reattaching flyleaves, and repairing cracked bindings; Mylar encapsulations; and constructing acid-free custom enclosures.
Conservator's Statement
The Conservation Lab is committed to preserving and maintaining historical integrity as well as originality in our treatments. Written and visual documentation plays an important role toward developing accurate, complete, and permanent records of examination and treatment. The Conservation Lab provides MASC with proficiency and excellence in treatment and maintains adherence to the Code of Ethics and Guidelines for Practice of the American Institute for Conservation of Historic and Artistic Works (AIC).
Preservation Grants
In 2007 and 2008, we received LSTA grants from the Washington State Library to undertake conservation work on rare books that were damaged in the 1970s. We used the following criteria to select volumes for conservation treatment:
Books that were damaged in previous preservation attempts;
Books that were printed before 1800;
Books that according to OCLC's WorldCat are not held by any other institution in Washington State.
Preservation Survey
Comprehensive Preservation Survey of Manuscript and Photograph Collections (2004-2005).
Recommended Resources