Librarian Talea Anderson Selected as Mellon Fellow
Talea Anderson, scholarly communication librarian in WSU Libraries, has been selected as an Andrew W. Mellon Fellow for Diversity, Inclusion, and Cultural Heritage through the Rare Book School (RBS) at the University of Virginia.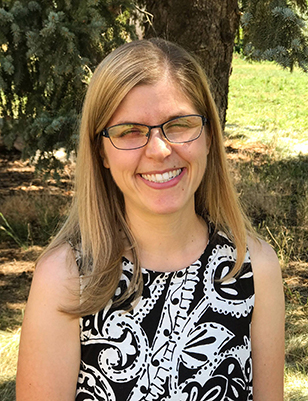 The three-year fellowship covers tuition and travel to take RBS courses, attend a cultural heritage field school, organize a symposium, and engage with rising leaders in archives, libraries, and museums. This is the second time a WSU Libraries employee has received a Mellon Fellowship, with Anastasia Tucker being recognized in 2020.
"I am delighted that Talea Anderson received this nationally competitive fellowship," said Trevor Bond, WSU Libraries' associate dean for digital initiatives and special collections. "Talea's selection reflects her strong writing and her interest (professional and personal) in an understudied area of book history: tactile books printed for blind and low-vision readers.
"Her experiences as a Mellon Fellow will benefit the WSU Libraries and our broader academic community," Bond said. "Talea is an amazingly talented librarian, and it is a great privilege to be her colleague."
Invisible readership
The history of accessibility and disability in archives and special collections is largely untold, according to Anderson, who has low vision. Her study of braille starting in 2020 sparked her interest in the history of tactile writing.
"Early tactile books contain a rich and underexplored history about who blind readers were, their backgrounds, needs, and desires," she said. "I did not grow up knowing these histories, and I'd like to help make them more widely available to others using tools at my disposal."
Anderson said she hopes to take advantage of the Mellon Fellowship's multicultural focus and invaluable connections to other fellows, as well as learning methods of book archaeology to better understand the readers who may have been otherwise invisible in the historical record.
"I'm excited about the Mellon Fellowship because it's going to give me the opportunity to explore how archives and special collections can more actively engage with disability communities," Anderson said. "In particular, I'm looking forward to exploring how historical tactile books and materials can be made more accessible to blind and low-vision communities. My goal is to work with colleagues at WSU Vancouver and the Washington State School for the Blind to create a symposium that uses tactile materials as a centerpiece for discussing accessibility concerns in higher education."
About the fellowship
In June 2019, RBS received a $1.5 million grant from the Mellon Foundation to support the Andrew W. Mellon Fellowship for Diversity, Inclusion, and Cultural Heritage, a six-year program that seeks to advance multicultural collections through innovative curatorial practice and leadership. The fellowship provides professional development opportunities for early- to mid-career professionals working in a special collections library, archive, or other cultural heritage institution located in the United States.
Over the course of the program, cohorts progressively overlap, allowing fellows from different cohorts to meet and interact during RBS courses and other activities. Fellows build connections with diverse communities and publics through a combination of strategic programming, outreach, advocacy, and training.
For more information about the fellowship, visit the RBS website.