First-edition Jane Austen Novels Added to WSU Libraries' Collection
WSU's Manuscripts, Archives, and Special Collections has acquired first editions of the Jane Austen novels "Emma," "Mansfield Park," "Northanger Abbey," and "Persuasion" thanks to the bequest of WSU alumna Lorraine (Kure) Hanaway, Class of 1949.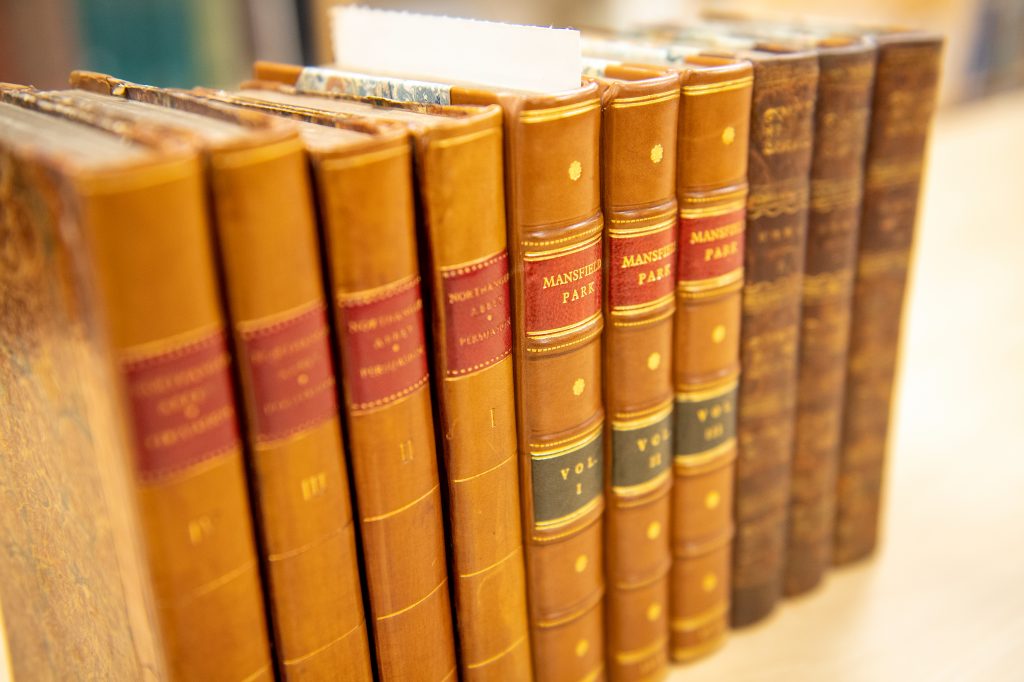 "Jane Austen is one of the most loved authors in all of literature. The WSU Libraries had no first editions of her work until now," said Trevor Bond, associate dean for digital initiatives and special collections. "The books are gorgeous and will support our work to collaborate with WSU faculty to introduce primary sources into classes and research.
Hanaway was an outstanding student and involved in numerous honor societies on campus, Bond added. She served as the editor of the "Evergreen" and in 1948, interviewed the singer and actor Burl Ives when he visited campus.
"I am honored that she would think to leave these books that she cherished to her alma mater," said Bond.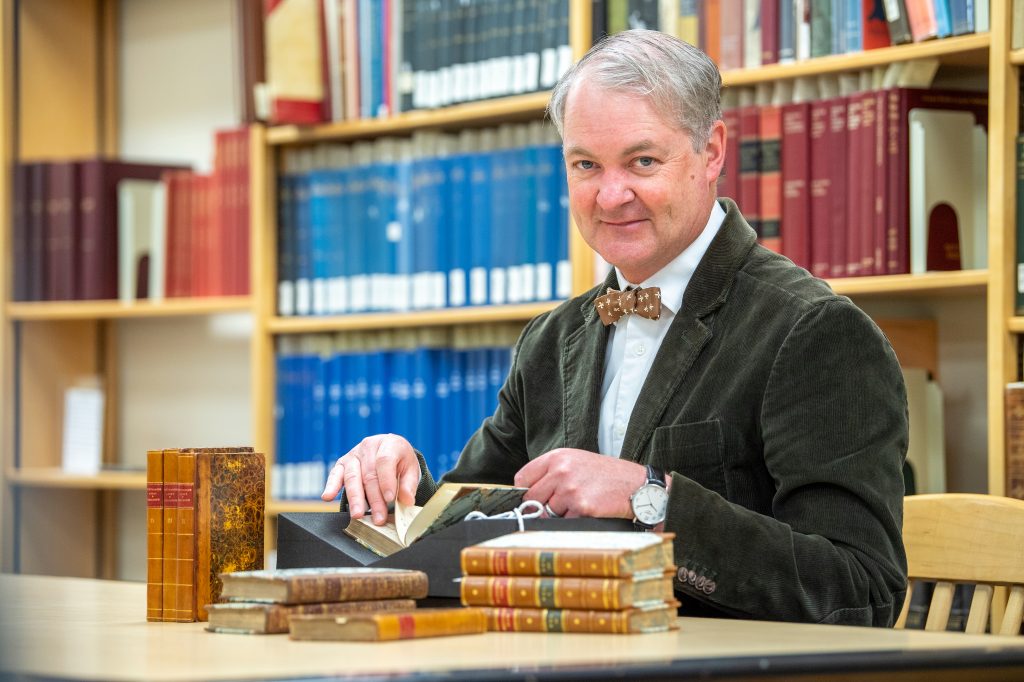 "Emma," "Northanger Abbey," and "Persuasion" are largely in their original state, Bond said, with contemporary bindings, bookplates from former owners, and inscriptions. "Emma" and "Mansfield Park" are each published in three volumes, also called "triple deckers."
"These triple-decker novels were all the rage in Victorian England," he said. "They were expensive for individuals to buy, but many could join a subscription library, paying a small fee to borrow books. Publishing the novels in three volumes allowed more readers to borrow individual volumes and quickly return them."
Southcentral Washington roots and the WSC years
According to her obituary, Lorraine Kure was born March 9, 1927, in The Dalles, Ore., but was raised in Wapato, Wash., on the family's dairy and fruit farm, where she worked in the early mornings before school and dreamed of moving to New York and becoming a journalist.
Research by WSU university archivist Mark O'English shows that Kure attended Wapato High School, graduating fourth in a class of 75 in 1945. She came to Washington State College that fall with her older sister, Joann (Home Economics, '47), majoring in journalism.
Kure made the honor roll twice, but her university involvement truly stood out. Among her many activities, she served as managing editor for the alumni magazine "Powwow" and was appointed to the Student-Faculty Committee on Fraternity Welfare by WSC President Wilson Compton. She was elected president of Theta Sigma Phi, the women's journalism honorary society, and selected to be part of "The Big Ten," the Student-Faculty Committee's honor for best WSC seniors. She also found time to organize numerous small social events, like a "meet our Scandinavian student" get-together for a foreign-exchange student living in her dorm.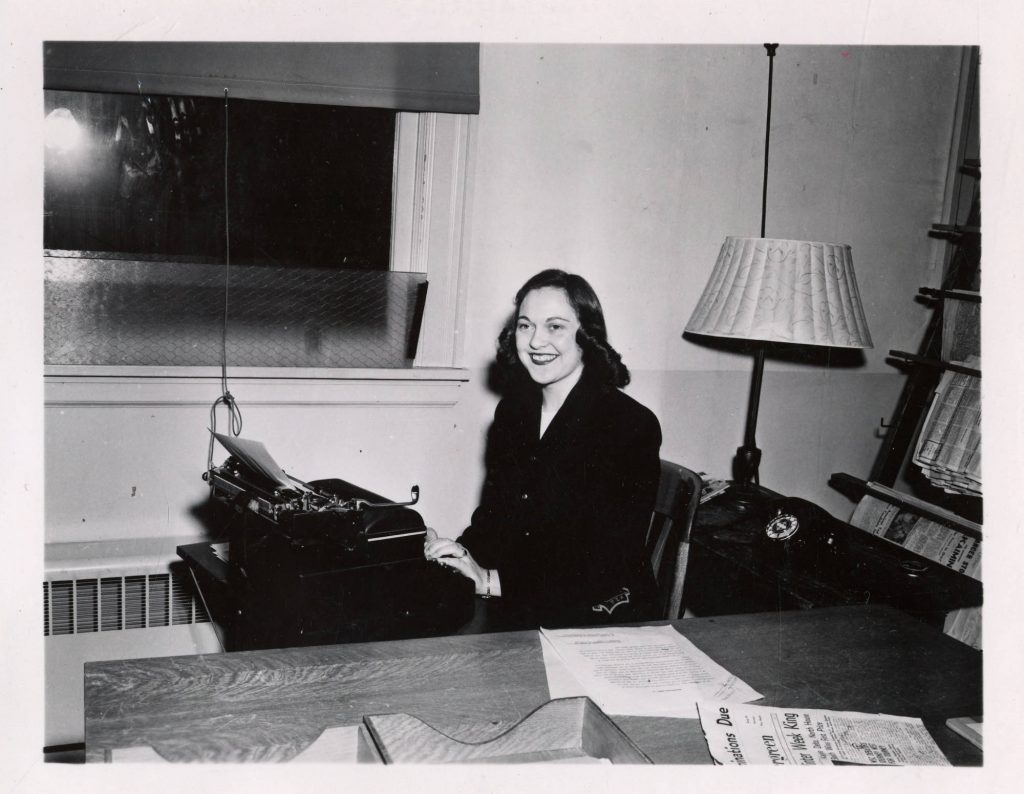 "She was one of those very active students," O'English said. "A March 17, 1947, somewhat-sexist commentary in the student newspaper on the ideal campus woman noted that she would have the personality of Lorraine Kure."
Following her dream
Several years after graduating from WSC, Kure did go to New York to pursue a writing career and community involvement opportunities, such as organizing the International "Herald-Tribune" World Youth Forum, writing for Pan American Airlines, creating publications for the Maternity Center Association, and even doing a brief stint for the editor of the "New York Times" crossword puzzles.
Kure met her future husband, Bill Hanaway, in 1958, and the two were married almost 60 years, sharing a love of New York, books, walking, opera, world travel, and the outdoors.
In 1971, Bill accepted a faculty position at the University of Pennsylvania, and the family, now including daughter Annie, settled in the small community of nearby Wayne. Hanaway later worked as a writer and editor at Penn's Center for the Study of Aging (now the Institute on Aging) until her retirement. A highlight of her time there was interviewing American architect, author, and inventor Buckminster Fuller.
A champion of Jane Austen
Hanaway sought to build a community of individuals who shared her love of the novels and the world of Jane Austen. She was instrumental in the founding of the Jane Austen Society of North America (JASNA) in 1979. Over the next 40-plus years, Hanaway was active in the organization as head of membership as well as president and co-founder of the Eastern Pennsylvania Region chapter, also serving as its first regional coordinator.
To honor her legacy, after Hanaway's death in late August at the age of 93, the JASNA Eastern Pennsylvania Region chapter created the Lorraine Hanaway Speaker Endowment to annually sponsor a distinguished speaker to help further Jane Austen awareness and enjoyment.
"Lorraine Hanaway's love of Jane Austen has left an indelible mark on modern appreciation of Regency literature and life," said Christopher Duda, chapter regional coordinator. "For nearly half a century, Lorraine Hanaway was one of the leading ambassadors championing and raising awareness of Jane Austen's timeless wit, wisdom, and far-too-few published novels. Personally, I will always remember her as one of the kindest souls I have ever met. She will be greatly missed."
Companion books
Manuscripts, Archives, and Special Collections also obtained other books from Jarndyce Antiquarian Booksellers of London, a firm specializing in 19th-century English literature, to complement the first-edition Austen novels. Among the titles are "O'Donnel: A National Tale" by Lady Sydney Morgan; "Temper, or Domestic Scenes: A Tale" by Amelia Opie; and "Tales of the Castle: or Stories of Instruction and Delight" by Madame la Comtesse de Genlis.
"I looked for novels by contemporaries of Austen, especially those written by women, novels she may have read and novels that may have been controversial at the time," said Greg Matthews, WSU special collections librarian.
Austen was familiar with Morgan's work and read her most well-known book, "The Wild Irish Girl." "At the time, Morgan's fiction was notorious for frank, fresh, and heroic female characters," Matthews said. "Apparently, Austen, an author appreciated for her nuanced wit, wasn't impressed with its candor."
Opie supported several progressive causes of the period, such as the abolition of slavery and women's education, and was close to many significant social reformers, including Mary Wollstonecraft and William Godwin, according to Matthews. "Temper" features a heroine named Emma. (Austen's novel of that title appeared in 1815.)
In Austen's "Emma," the title character mentions Madame de Genlis's 1782 novel "Adelaide and Theodore" as a useful source for the education of young women. An influential writer during her lifetime, Madame de Genlis was considered an original and innovative educator, and her work, both fiction and nonfiction, served as a platform to promote her ideas about effective instruction, Matthews said.
"Austen's opinion of this author and her other works, however, was often critical," he added. "Still, scholars have written about the older French writer's influence on Austen and her fiction. "Tales of the Castle," first published in English in 1785, represents the impact continental literature had on the English novel during Austen's lifetime."
—Story by Nella Letizia