'Art in the Library' exhibit features work of veterinary student Charlie Kittridge
Peregrine falcons, the fastest birds in the world, can reach speeds of up to 240 miles per hour while diving. Third‑year Washington State University veterinary student and wildlife artist Charlie Kittridge drew the bird of prey in October 2017 as a tribute to its impressive qualities.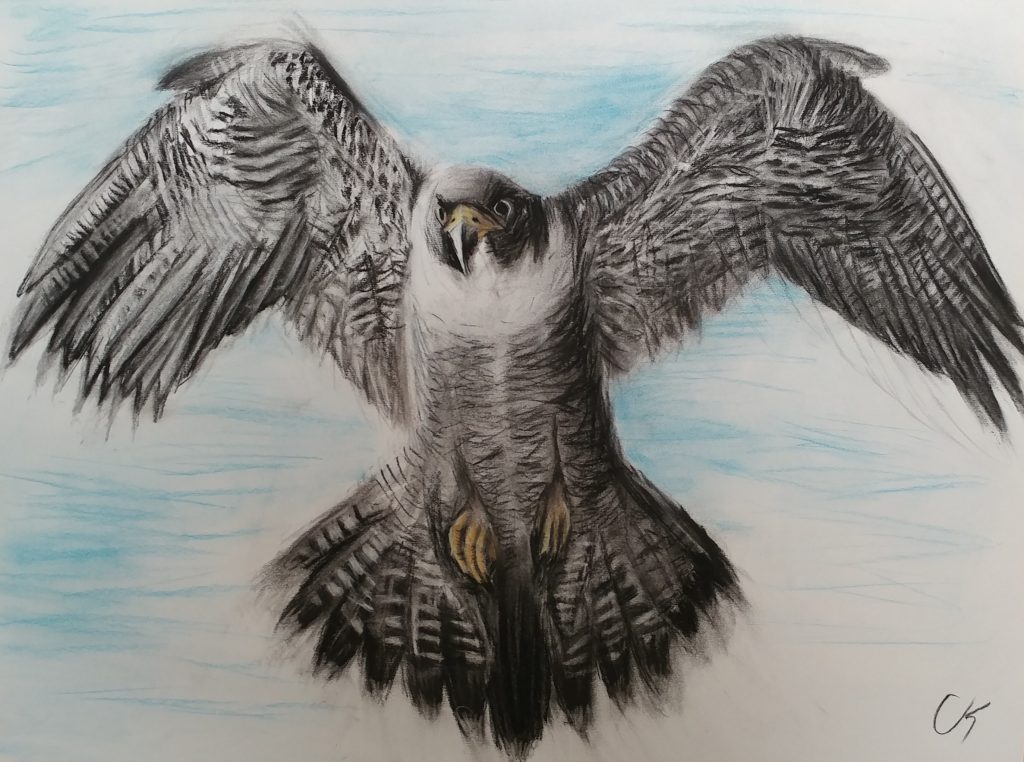 "I admire their speed, precision and power," he said. "Animals are my favorite subjects. I get to know them in a deeper way through art."
The peregrine falcon drawing and more of Kittridge's artworks will be on display through December at the Animal Health Library, part of the WSU Libraries' "Art in the Library" program. An opening reception will take place from 4–6 p.m. Friday, Sept. 20, at the Animal Health Library in Wegner Hall 170.
The twice‑yearly "Art in the Library" exhibit features animal-themed works, typically from artists with a connection to the WSU College of Veterinary Medicine. For more information, visit the WSU Veterinary Medicine website.
A native of Duvall, Wash., Kittridge said he has been drawing and making art since he was 4 or 5 years old, "watching Bob Ross on PBS." He started taking art more seriously in college at Gonzaga University, where he graduated in 2017 with a biology degree and an art minor.
Asked what his hopes are for visitors to the "Art in the Library" exhibit, Kittridge said, "I hope that they get some kind of deeper representation of the animals, things like power or stealth, traits that those animals have that might not be evident from a still image. It could be something I hadn't thought of. I leave that up to the viewer."