Then and now: How WSU Libraries have changed since 1994
Part two of a two-part series describes changes in the WSU Libraries over 25 years. Part one covered the history of Terrell Library.
About the time Terrell Library was being constructed in the early 1990s, the Washington State University Libraries as a whole had yet to launch a website. Today, the libraries' website, which recently underwent a makeover, gets more than 1.3 million page views a year and averages more than 3,600 a day.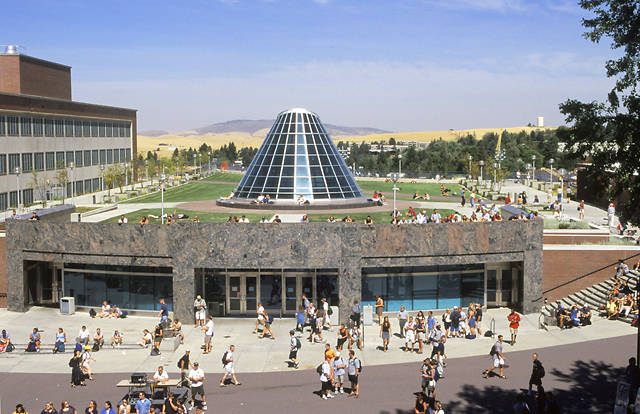 This is just one of the many ways WSU Libraries have changed over the past 25 years. The rapid pace of technology and the internet have transformed the libraries like many other areas within the university. What follows is a sampling of the libraries' evolution since 1994, when construction on Terrell Library was completed.
To commemorate Terrell Library's 25th year, WSU Libraries is holding an anniversary celebration from 2-3 p.m. Friday, Aug. 30, at the Terrell outdoor plaza. Speakers are WSU President Kirk Schulz; WSU Libraries Dean Jay Starratt; WSU School of Design and Construction Associate Professor Phil Gruen; and retired Managing Principal Architect Stephen Hindley of ALSC Architects in Spokane and a WSU alum. Refreshments, including Ferdinand's grabbers, will be served.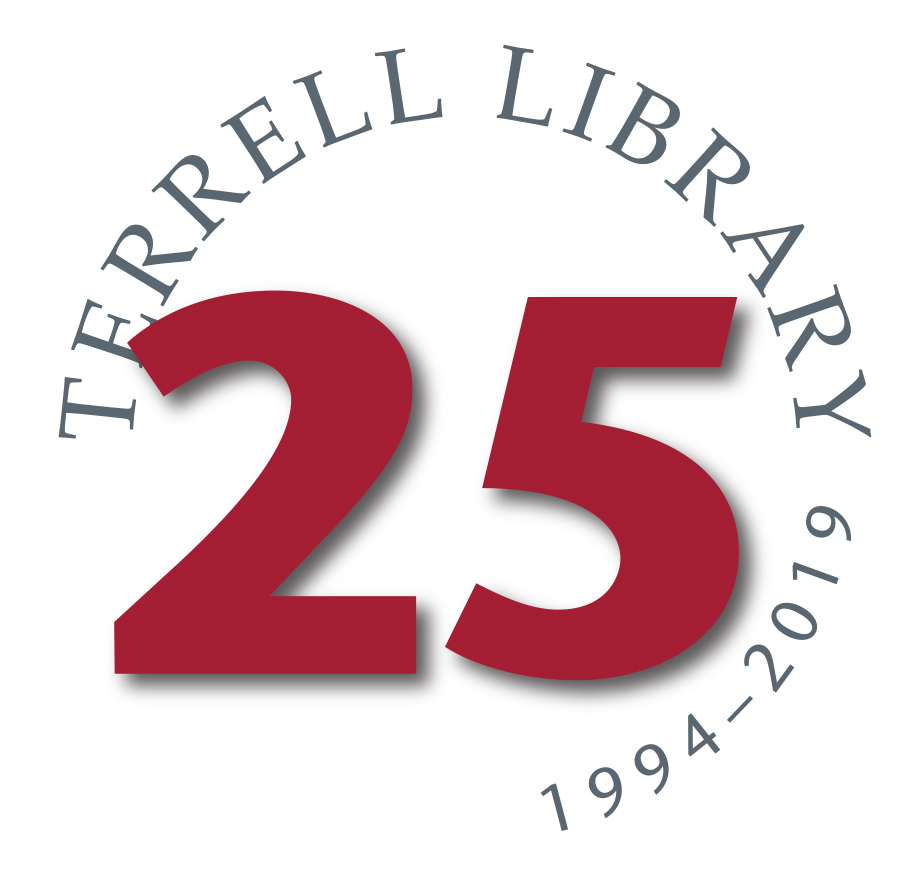 On the technical side
Twenty-five years ago, the WSU Libraries had yet to start digitizing unique and local digital content, according to Alex Merrill, head of systems and technical operations.
"Now the libraries manages more than 300,000 pieces of unique and local digital content ranging from photos and documents to 3-D models and rich-media presentations, which receive more than 30,000 page views a month," he said.
In 1994, the libraries' spaces were predominantly set up to accommodate students studying solo, Merrill said. Today, the libraries have adapted spaces to keep up with changing pedagogy and practice and offer more than 30 spaces that can be reserved online, designed to accommodate study and collaboration groups.
"So far in 2019, these spaces have all been occupied the equivalent of 1,000 days," he said.
WSU Libraries shared an online catalog, called Griffin, of primarily print materials with the Eastern Washington University Libraries 25 years ago, Merrill said. This only searched a subset of items held at both institutions, less than two million records.
"Today, WSU Libraries' users can search through more than 300 million items from libraries and publishers around the world," he said.
In the early 1990s, WSU Libraries were part of the six-member Cascade consortium, and the closest lending relationships were with the University of Idaho and EWU, Merrill said. Now the libraries are part of the Orbis Cascade Alliance along with 37 member institutions in Oregon, Washington and Idaho. The WSU Libraries share more than 250,000 items a year and serve more than 275,000 students.
On the public services side
Reference service was offered in person, by phone and by postal mail 25 years ago, said Associate Dean Beth Blakesley. Email reference was just catching on in some places in 1994. Today, WSU Libraries offer reference service 24/7 through chat technology and consortial arrangements, in addition to in person, phone and email.
In 1994, librarians offering instruction to users spent a good deal of time on mechanics, Blakesley said. The "world wide web" had just emerged, and CD-ROM databases were converting to online.
"Library employees did a lot of typing, and we had just begun moving toward word processing," said Access Services Manager Sue Shipman. "Many library employees shared typewriters and even a computer. The internet was very new, and we were only starting to use it for anything."
"Computer skills weren't as ubiquitous, and we spent a lot of effort teaching people how to navigate systems and how to interpret the results, in addition to search strategies and research methods," Blakesley said. "As people became computer literate, library instruction transformed into information literacy instruction, shifting the focus toward search strategies, source evaluation and other higher-level concerns, like ethical use of information."
Many people did not yet have a personal desktop computer, much less a laptop, in 1994, Blakesley said.
"Tablets, smart phones, and other mobile devices—and our need to design our tools to display correctly on them—were in the future," she said. "Public computers were in great demand, since no one had a computer with them."
Twenty-five years ago, people may have been searching indexes online, but there was still the need to locate the sources in paper formats, Blakesley said. The last couple of decades have seen an explosion in the amount of content that is now available digitally.
"Library instruction and reference service in the days before the 'Find It' button also included helping people figure out how to take database results and efficiently search the catalog for location information," she said.
Although the majority of journals are now online, this wasn't always the case. In 1994, as Shipman recalled, most journals arrived in paper format and underwent a lengthy physical check-in process. The Current Journals room, which now also houses the library instruction classroom, video collections, huddle stations and furniture for group study, used to contain only shelving with print magazines, journals and newspapers.
In 1994, many academic libraries like WSU Libraries still had their card catalogs intact, as online catalogs did not yet include all older materials, Blakesley said.
"Today, discovery systems like WSU's Search It offer access to a wide array of resources, not only books, but also articles," she said. "Many items are available online in full-text formats with another click."
People were just learning how to download search results to their floppy disks 25 years ago, Blakesley said. Flash drives weren't introduced until 2000.
"Printers got a workout with people printing out catalog information, such as call numbers and locations," she said. "Now people can send information from the library website to their phone and go find a book."
Other library changes
The Association of Research Libraries (ARL) keeps statistics on academic libraries around the country. A comparison of ARL figures for WSU Libraries 25 years ago to the present follows:
In 1994, the libraries held 1,757,256 volumes system wide. As of 2018, they have 3,156,906 volumes.
The libraries spent $653,267 on monographs in 1994. Currently, they spend $629,642 on books.
In 1994, the libraries spent $2,433,573 on journal subscriptions, mostly printed. Today, they spend $6,166,987 on journal subscriptions, virtually all electronic.
The libraries spent $95,366 on commercial binding for print journal issues in 1994. Today, they have $8,250 budgeted for commercial binding this fiscal year.
In 1994, the libraries had 137 staff members across the WSU system. They currently have 109.
The libraries served 16,497 undergraduate students and 2,034 graduate students in 1994. In 2018, they supported 25,851 undergraduate and 3,685 graduate students.
Support the next 25 years of Terrell Library by making a donation to the Glenn Terrell Endowment for Excellence in Student Services. Your gift will help provide crucial funding in a number of areas, including the acquisition of cutting-edge technology; design and implementation of collaborative learning spaces; and access to a rich array of electronic and print resources.