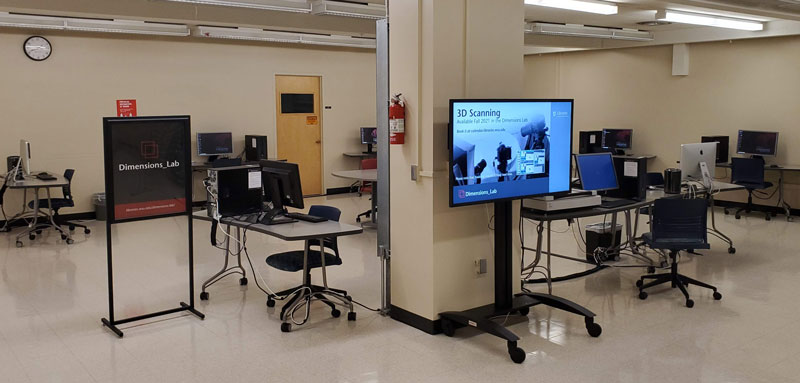 The Dimensions Lab provides computing resources and tools to WSU students, staff, faculty, and community members for projects in the fields of media, art, music, engineering, computer science and physics. The lab is located on the first floor of the Holland Library near the Terrell Library elevators.
Dimensions Lab open hours
Dimensions Lab Assistant hours
Audio Lab Reservations
The Audio Lab is now available for booking!
View the Audio Lab Manual (PDF) to learn more about the lab.
Available Now:
5 Windows PCs
1 Windows PC

Scanner with document feeder
Additional Software: NAPS2

4 Mac Minis
Audio Workstation Windows PC

Additional software: Ableton Live 11, Pro Tools 12
Audient iD4 2-channel Audio Interface
Native Instruments Komplete Kontrol A25 MIDI Keyboard

Matter & Form 3D scanner with Windows PC
NextEngine 3D scanner with Windows PC
Audio Lab (by reservation only, see Audio Lab Reservations)


WhisperRoom recording booth
Windows PC workstation

Thunderbolt 3 dock
NVIDIA 2080 TI graphics card
Additional software: Ableton Live 11, Pro Tools 12, Max 8, Davinci Resolve Studio
2x 27″ ViewSonic displays

Motu 828es audio interface
Audio-Technica AT4033a condenser microphone (w/ stand, shock mount and windscreen)
Novation 61SL MIDI Keyboard
4x JBL 305P 5″ monitors
Davinci Resolve Studio controller w/ Jog/Shuttle wheel
Art Voice Channel Tube Strip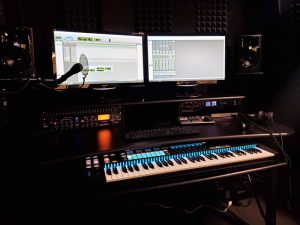 Coming soon: 3D Printer, Oculus, 3D Scanning Room

These resources will be made available during the Spring 2022 semester, available during staffed hours:
3D Scanning room


Microsoft Surface Windows PC
3x DLSR cameras with tripods
Motorized turntable – ideal for objects up to 20″ X 20″ X 20″ in size
Lighting rig

Oculus Rift VR workstation


With large external monitor

LulzBot TAZ 6 3D printer


Octoprint
PC Workstation
*Please note that 3D prints must finish during staff member's shift & students must supply their own material
Software List:
---
Dimensions Lab Assistant Hours:
The Libraries Systems department makes an effort to staff the Dimensions Lab with student workers Mon-Fri, 9am-5pm for Fall and Winter semesters. These Lab Assistants are available to assist students with lab technology, reservations and to troubleshoot/report issues. Lab assistants are working in the lab when by a sign that lists Staff Available. Please be aware that student-staff schedules are subject to change at a moment's notice. When Lab Assistants are absent or know in advance that they'll be out, they will update our real-time schedule (Google sheet).