Rare Pamphlet Added to Library Collection
In 1942, London's Hogarth Press published a pamphlet by British physician Isaac Harris called "The Calcium Bread Scandal," a spirited denunciation of the Food Ministry's proposal of adding nutrients, including calcium, to bread as a way to fortify the health of the British public during wartime.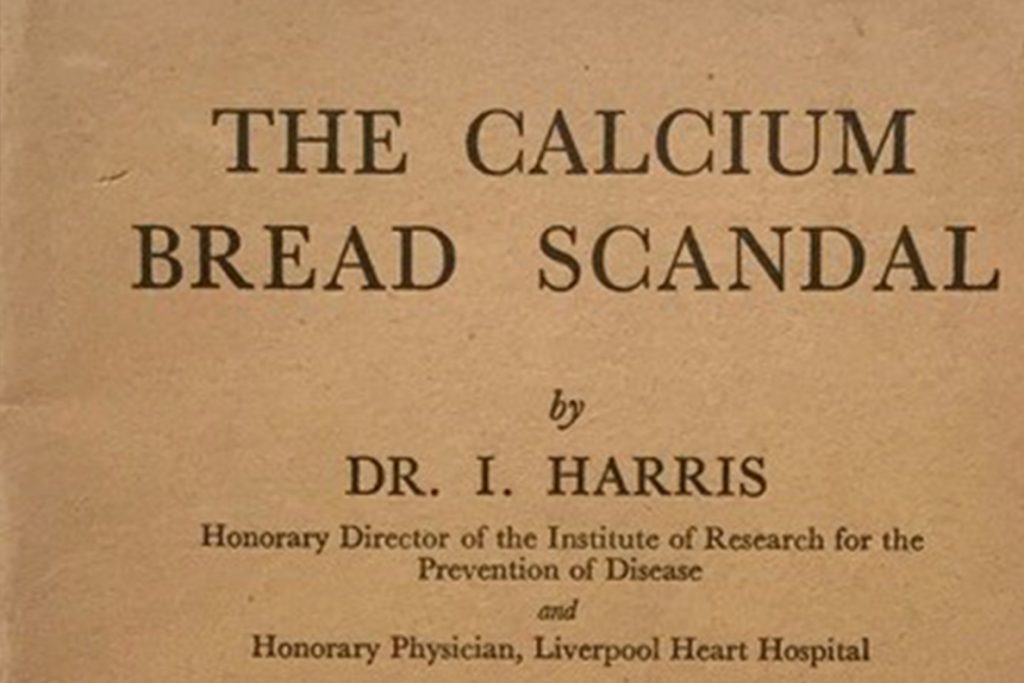 "In any case, the disease [osteoporosis] is so rare that adding calcium to bread for this purpose [preventing osteoporosis] would be like burning a house in order to roast a pig," the good doctor wrote.
WSU's Manuscripts, Archives and Special Collections (MASC) recently acquired Harris's colorful and rare pamphlet, thanks to a $10,000 bequest of former MASC employee Leila Luedeking, who supported the Hogarth Press Collection as well as the Leonard and Virginia Woolf Library during her life.
While working at MASC from 1973 to 1998, Luedeking cataloged many of its rare book collections and especially contributed to the description of the Woolf Library. She served as a crucial resource for Woolf scholars in the United States and the United Kingdom who corresponded with the department. MASC's files include detailed letters and emails that Luedeking wrote to them.
"She was a recognized expert on the work of Leonard Woolf and coauthored an important bibliography of his vast literary, political and critical publications," said Trevor Bond, WSU Libraries' associate dean of digital initiatives and special collections. "This work remains the standard source for Leonard Woolf."
Longtime goal met
With the acquisition of "The Calcium Bread Scandal," MASC reached its goal of holding a copy of every title published by Hogarth Press from its founding by Virginia and Leonard Woolf in 1917 until Leonard sold his interest in the press in 1946, said special collections librarian Greg Matthews.
Harris's pamphlet has two parts: The first is his main diatribe against the Food Ministry's plan, which he explains in 10 points. The second reprints four letters Harris submitted to the editors of newspapers and medical journals arguing against the medical efficacy of adding nutritional supplements to bread. These pieces are more technical.
Harris objected to the Food Ministry's proposal for other reasons than the rarity of osteoporosis in the population. He also pointed out that Vitamin D aids the physiological absorption of calcium, so adding the mineral supplement without its necessary vitamin counterpart would be ineffective. Finally, Harris viewed the bread supplement scheme as a symptom of the very fascism the Allies were fighting against, Matthews said.
"To-day it is one food crank who becomes the dictator; to-morrow there may be another," Harris wrote. "To-day it is calcium; to-morrow, Heaven knows what else may be imposed upon us."
Matthews appreciates the doctor's candor. "Harris's writing style was clear as befits an expert writing for a general audience, though he exhibited a flair for simile and rousing rhetoric, encouraging his readers to resist the rise of tyranny at home," he said.
A champion of Woolf literature
Luedeking came to Pullman in 1956 when her husband, Robert, was hired by WSU to teach chemical engineering. The couple raised five daughters here, and according to her obituary, Luedeking joined her husband at the university first as a graduate student and then as an employee in MASC when her youngest started preschool.
Colleagues who worked with Luedeking found her to be a good bibliographer. Rare books cataloger Julie King, who started working in MASC in 1986, remembers that Luedeking was involved at the start when MASC obtained the Woolf Library in the early 1970s.
"Leila catalogued the bulk of the Woolf Library," King said. "She was quite protective of the books, and rightly so. At the time, the Woolf Library was interfiled with the other books in MASC, and we have since collected it all into its own section in the book stacks, but Leila provided the foundation work."
Luedeking also initiated getting many MASC collections catalogued online, including those associated with Leonard and Virginia Woolf.
"We were members of the Washington Library Network at the time, and Leila got us on the online format," King said. "She and humanities librarian Ann Wierum were responsible for acquiring many of our English literature sub-collections: D.H. Lawrence, John Masefield, Vita Sackville-West, Henry James and others.
"I could tell she was fussy about details," she added. "I am, too—that's what makes a good cataloguer, so I made sure to have everything just so."
Luedeking's devotion to the Woolf collections didn't stop with her retirement in 1998; Bond said she regularly gave to MASC afterward until her death last November so that the department could continue to collect items.
"I had the pleasure of working with Leila for a few months before she retired," he said. "I remembered her as a quiet, sharp and dedicated colleague."
—Story by Nella Letizia