2020 Edible Book Festival Cancelled
This event has been cancelled due to concerns about coronavirus.
For Sarah English, the WSU Libraries' Edible Book Festival brings back memories of childhood classics revisited in scrumptious and creative ways. She's enjoyed the event several times both as a spectator and as a judge.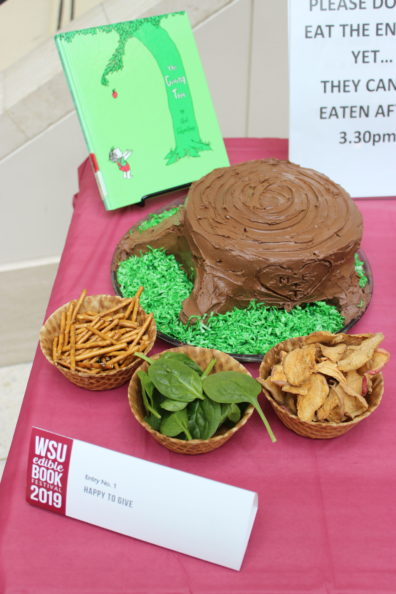 "Some of my favorite presentations over the years have paid homage to stories I loved growing up—a jar of button-shaped cookies that Corduroy would love to have pulled a spare from, a sugar-and-color-filled secret garden and the Very Hungry Caterpillar's food trail, which ended with some medicinal relief," said English, a WSU donor and librarian at Schweitzer Engineering Laboratories in Pullman. "Proust's madeleines and Frank‑in‑stein have also made appearances. I'm looking forward to laughing and delighting over the cleverness of this year's entries."
Registration is now open for the fifth annual Edible Book Festival on Friday, April 3, part of WSU Mom's Weekend activities.
Entries will be accepted through March 29; to register and for more information, visit the library guide website. Participants can register individually or as a group. Entry rules are simple: Submissions must be made from edible materials and somehow relate to a book.
Edible book festivals take place around the country and world to celebrate books, art, food and culture. They got their start with the first International Edible Book Festival on April 1 2000. Since then, organizations and universities have served up their own versions of the popular event.
WSU's festival begins with public viewing and judging at 2:30 p.m. in the Terrell Library atrium, with winners announced at 3:30 p.m. Awards will be given for People's Choice, Best Visual Presentation and Punniest. Light refreshments will also be available.
"We really hope that people will take inspiration from a favorite book or author and run with it," said Erica England, festival organizer and first‑year experience librarian. "Every year, the Edible Book Festival continues to grow and draw guests to Terrell Library, including many WSU moms and their students, to see contestants' ingenuity and tributes to their favorite literature. It's a fantastic way to engage with our patrons, community members and out‑of‑town visitors."
"The festival celebrates forms of creativity—culinary arts and punnery—which we don't often get to express in academia, but are certainly delightful life skills," English added.
—Story by Nella Letizia