Glass salmon installation reception set for Jan. 30 in Terrell Library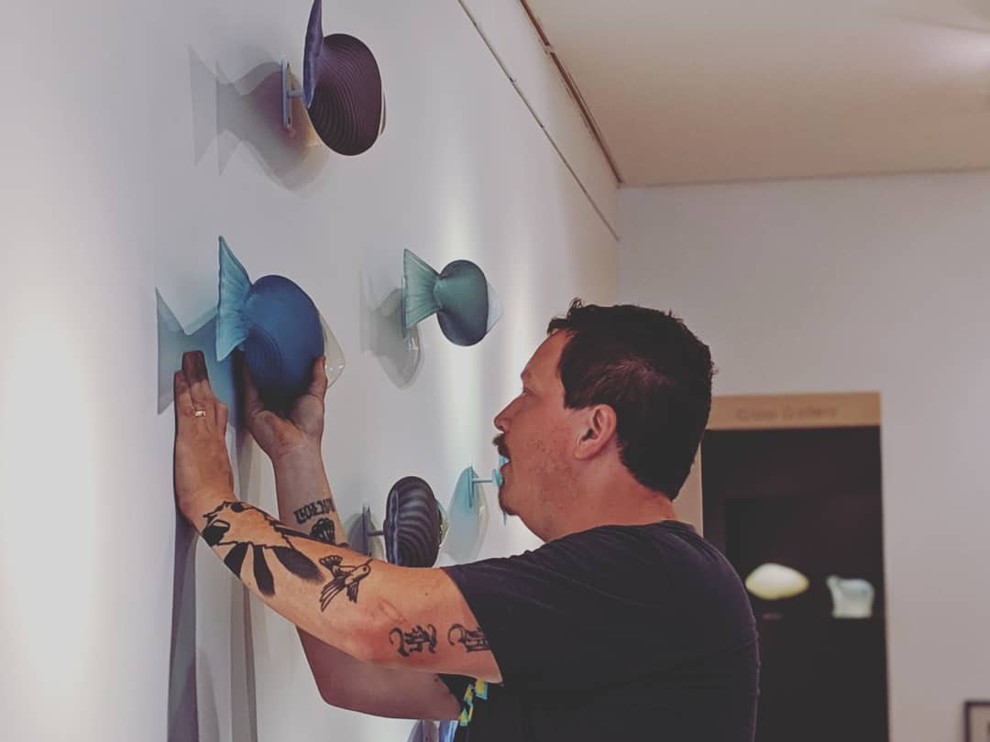 An installation of glass salmon by Lummi Nation glass artist Dan Friday will be commemorated with an opening reception from 3-4 p.m. Thursday, Jan. 30, at the Washington State University Terrell Library atrium. The installation, titled "Schaenexw (Salmon) Run," is funded by the state's Art in Public Places (AIPP) program and curated by Todd Clark of IMNDN, a nonprofit organization dedicated to advocating for contemporary Native art and artists.
"The 'Schaenexw Run' is an homage to our traditional way of life and our cultural connection to flora and fauna of the land," Friday said. "Salmon and fishing have been a way of life for people of the Northwest since time immemorial. From the reef nets of the Salish Sea to the dip nets, traps and weirs of the Plateau, many tribes are known as the Salmon People."
"The Terrell Library atrium is the perfect location for 'Schaenexw Run,'" said Trevor Bond, WSU Libraries' associate dean for digital initiatives and special collections. "With Terrell's glass dome and natural light streaming into the space, the glass salmon will look fantastic. And as the seasons and the quality of light changes throughout the year, so too will the sculpture. Thousands of WSU students, faculty and staff pass through the atrium each week, and I think that 'Schaenexw Run' will encourage visitors to stop and be inspired."
Based in the Seattle area, Friday has spent the last 20 years working for such artists as Dale Chihuly, Paul Marioni, Preston Singletary and many others. He has taught at the Pilchuck School of Glass and held residencies at the Museum of Glass in Tacoma, Wash., and the Dream Community in Tai Pei, Taiwan. Friday is a recipient of the Discovery Fellowship through the Southwestern Association for Indian Arts, and his work can be seen in galleries across the United States.
AIPP purchases and cares for artworks in state buildings, colleges, universities and schools throughout Washington. The State Art Collection includes nearly 5,000 artworks, located where people study, work and live. Encompassing a wide range of materials, sizes and styles, the collection represents notable artists from Washington, the Pacific Northwest and beyond.
Founder of IMNDN and enrolled member of the Wailaki Tribe, Clark brings a unique curatorial voice to his exhibitions by understanding what it means to be Native in the 21st century. Clark has worked with many prominent Native artists, including Rick Bartow, Joe Feddersen, Edgar Heap of Birds, Wendy Red Star, Nicholas Galanin, Peter Morin, Shan Goshorn, Gail Tremblay and Lisa Telford.